The victory of any hunting trip begins with the scope and the gun. There are various choices available when it comes to a rifle scope, and it depends on the type of hunt that you go. That's why so many people choose to go with Bushnell Brand optics. 
As they are well known for being reliable and more accurate, and they are capable of hunting targets from mid-long range.
If you are searching for the tactical mid-range scope at a feasible price, undoubtedly, the Bushnell AR Optics Drop Zone-223 BDC Reticle 3-9x40mm Riflescope is the right choice for you to choose. 
It's considered one of the best optics for AR according to many reviews and top rifle scopes under $100. 
Let's get into the exciting features of the Bushnell AR Optics 3-9x40mm Drop Zone-223 BDC Reticle.
Features of Bushnell Optics 3-9x40mm Drop Zone-223 BDC Reticle Riflescope
The salient features of Bushnell AR Optics Drop Zone-223 BDC Reticle 3-9x40mm Riflescope are,
Accuracy
The accuracy is the strength of the Bushnell AR drop zone, due to the enhanced average optics and turret targeting system. 
It's calibrated for 55-62 grain, which means it can focus up to 500 yards with ease. Also, the scope can perform well in any extreme weather conditions, as the device is built using a high-durable aluminum alloy.
Another advantage of this feature is that the scope has a fast-focus eyepiece and is combined with side focus parallax adjustment to provide long-range accuracy.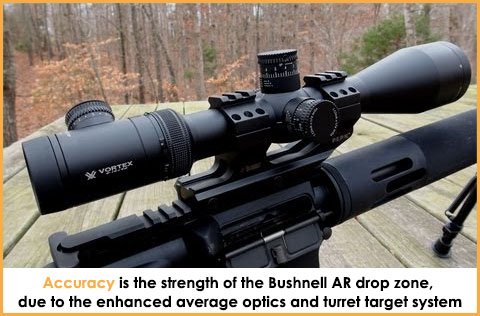 It can range up to 100- 500 yards. The scope zeroes at 100 yards with a maximum aiming and points out to 500 yards at great accuracy. 
The magnification power 1-4x is the only limitation, within these limits the scope has excellent accuracy.
Reticle
The BDC Reticle allows you to compensate for the bullet drop over a given distance. Unlike a traditional hunting reticle and Mil-Dot Reticle, the BDC allows the shooter to move up to 100 yards increments out to 500 yards. 
Along with this BDC reticle, the Bushnell AR Riflescope comes with a caliber-specific reticle. This reticle allows the user to deliver every round with flawless precision.
Magnification Range
The Bushnell AR optics comes with a powerful magnification range of 3-9x. 
It allows you to shoot even at longer distances and to focus and view your target much better with a standard objective lens of 40mm.
Windage and Elevation
The Bushnell 3-9×40 AR Optics Riflescope features a set of windage and elevation adjustment turrets with 1/4 MOA values. 
These turrets do not provide zero-stop functionality. The windage and elevations are easily adjustable without losing the focus of your target. 
Eye Relief and Lenses
The Bushnell AR Optics also features a fast-focus eyepiece that focuses on both accuracy and reliability.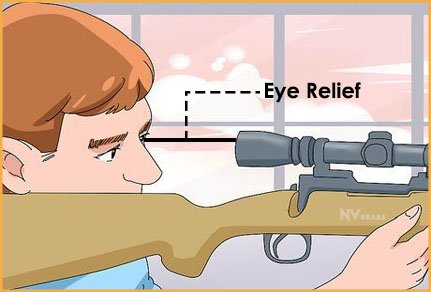 Combined with a variable power functionality, the scope can range from a minimum of 4.5x-18x, which is great for hunting and long-distance shooting.
Fully Multi-coated optics
Bushnell optic is fully multi-coated and it offers excellent brightness from dusk until dawn. 
The multiple layers of anti-reflective coating on all air of glass surfaces deliver crisp and clear images in all lighting conditions. 
Talking about the lens, the Bushnell Optics features a multi-coated optic lens that has a slight tint to them. Moreover, the Glass used in the Bushnell AR optics is high and clearer.
Durability
The Bushnell riflescope is built using a high-quality aluminum alloy that comes with an anodized finish. 
Furthermore, the optic is fully sealed to protect the inner components from any sort of damages. Another thing you will appreciate about the product is durability and reliability. 
Thus the scope is made using high-quality materials to ensure that the product is highly durable and enduring.
Quick Magnification Changes
This feature offers a power change lever so that users can set to two different heights, making the scopes customizable as the rifles you mount on them.
Exposed Turrets
Turrets are the main components of scope, and the primary use of turrets is to zeroing your riflescope. The exposed turrets are sometimes called tactical turrets. 
These turrets are designed for making high precision adjustments. Adjustments are easy to make with a 0.1 click value, and the turrets feature 1/4 MOA click, which is easier to make small adjustments and accurate for true shots.
Waterproof Construction
Bushnell Optics Drop Zone has waterproof construction with a standard IPX7 rating, so it won't fog up, and you will have a clear view, and you can use it in any weather conditions. 
It is purged with nitrogen to protect from internal moisture and sealed to ensure protection from the outer elements such as dirt, dust, or any moisture. Moreover, the device is rust proof and scratch proof.
Mounting Options
Mounting this scope is relatively simple and easy, and it weighs about 13 ounces. Some of the users may find this scope quite heavy. 
Also, you can use either ring or rail mounting systems depending on your preference. 
The low magnification settings of this Bushnell optics make this perfect for exchanging between rifles so that you can change the range during hunting or shooting trips. 
Advantages of using Bushnell AR Optics Drop Zone-223 BDC Reticle 
High-quality performance

Optimizes visual range

Improved Accuracy

Clearer Pictures

Increased range
Final Verdict
Overall, it's one of the best optics for hunters and shooting professionals who are seeking a durable, reliable, and top-quality scope that can meet all their needs at a fair price. You may not be able to find a lot of good scopes that have a magnification range of 1-4x and work error-free for the user. In this case, the Bushnell AR optics is fairly a good scope with certain drawbacks.