As a parent, you need to stay close with your little ones and monitor every movement of their lives. But, it's not possible for some of the parents, because they are tied up with many other things that they need to do. So, to fulfill the needs of modern parents, baby monitors are introduced.  Here we've given the VAVA 720p 5 HD Display Video Baby Monitor Review.
The Best Baby monitor is one of the popular shopping items the new parents purchase along with essentials such as diapers, a stroller, and a crib, and a portable Baby monitor is the most popular and must-have for parents. These baby monitors always keep your eye on your little ones even when you are far off from your home. 
If you are looking for a super and simple way to know what your baby is doing when you are not near them, then the VAVA Smart made, a simple baby video monitor is for you. The device is packed with the most notable features. You will like the design of the camera & monitor since it is clean, sleek, and modern.
VAVA baby monitor features a high-quality video monitoring technology that allows parents to roam freely and ensures that the baby is safe and comfortable. This portable baby monitoring unit can move around with you, and it lets you see, listen, and make your child comfortable with the talkback system.
In this article, we have reviewed one of the best baby video monitors in the market. Read this article to know more about its features, pros, and cons.
VAVA 720p 5 HD Display Video Baby Monitor Review
Display Functions
When you turn on this baby video monitor, you can see the signal strength, room temperature, talkback activation, zoom level, alarm, mute, night vision activation, time, and the camera at the top of the display screen.
720P & Large 5″ HD Display
The VAVA baby camera comes with an excellent monitor, that's the parent screen, which has a 5″ IPS display with a 720p resolution. It is great for displaying a high-resolution picture. The IPS stands for in-plane switching, it's a fancy type of LED display, and it provides you with superior color quality. Also, it's combined with a 720 video feed to provide you a crystal clear picture. 
The image quality and sound on the VAVA baby monitor are excellent. It offers you a clear and bright video and good quality of an image at night time.
To watch every delicate movement of your little one clearly, it possesses full-color images in the daytime, and greyscale IR images at nighttime.
4500mAh Capacity for 24hr Battery Life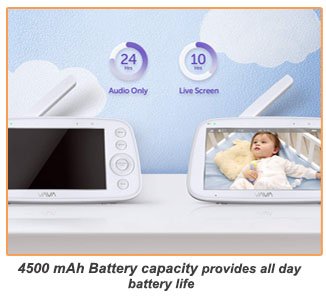 VAVA HD video baby monitor has the best battery life out of all the baby monitors. It has provided a long-lasting 4500mAh rechargeable battery. It runs 24hours in audio-only mode and 12-hours in display mode.
It takes a long time to get fully charged, and it's charging time is supposed to be 8 hours. But, one of the good things is that you can use it while it's charging.
Auto-Pilot Mode & 2X 4X Zoom
VAVA baby monitor features an auto-pilot mode and 2x&4x zoom function. Using the Auto-pilot mode, you can get both panoramic and up-close views of your baby. Also, it enables you to reach out to your baby immediately, and no need to wait around for any app. You can pan and tilt your camera 110° up & down and 270° left and right.
It's highly recommended to keep your camera about 3-6 feet away from where your baby sleeps. 
Two-way Talk System
Another great feature in this unit is the two-way talk. This feature allows you to make your little one comfortable at any time. The sound is very clear on this monitor with its 2.4GHz FHSS connectivity. Also, it has 8 levels of sound volume control, and even on the lowest setting, you can hear every little thing clearly in the nursery.
The two-way talk buttons also allow you to talk back, calm, and soothe your little one from far off and watch on the screen.
Long-range Transmission
One of the great features of this VAVA baby monitor is the 480-900 feet transmission range. This feature allows you to maintain constant visuals with a monitor signal range of up to 900 feet.
You can get a connection between the camera and the monitor from 900 feet away. With the VAVA baby monitor, you can go outside and still keep your eye & ear on your baby.
Audio and Video Monitoring
This feature has included 7 level sound volume and noise indicator lights for real-time care even with the screen off. You can set a high volume to hear your baby's coughing or breathing. Moreover, this feature is very helpful for parents who are heavy sleepers and to awaken them. In normal condition, you can set it to a low volume to just capture the crying of your newborn baby.
Automatic Night Vision Mode
This feature allows you to check up on your baby throughout the night. Also, you can watch a tiny movement of your baby like chest up and down, with a 720p clear view during the daytime, and it offers a greyscale image throughout the night.
Alarm
This feature is great for the parents who are feeding their newborn baby's every 2-3 hours at night. It's just like a wake-up reminder to feed your baby and also if you are trying to stick to a schedule to wake-up your baby during nap times. 
This alarm will go off for 30 seconds until you turn it off. If you are not to turn off the alarm, it will stop for 1 minute after beating for 30 seconds and then go off.
Room Temperature Monitoring 
This feature allows you to make sure your baby is comfortable and safe using the built-in thermostat. The monitor screen shows the temperature in the baby's room. So that you can easily identify how hot or cold your baby's room and also, you can adjust the room's temperature if needed, or it gets out of comfort or safety.
Connect Up to 4 Cameras
The VAVA baby monitor allows you to connect up to 4 cameras to the monitor in an alternative screen mode. If you have more than one baby, this feature may be helpful for you, and you can get full room coverage.
Note:
While adding up to 4 cameras to the parent unit, you will be able to see only one camera at a time. This unit does not have a split-screen mode.
Size
The size of the baby video monitor is slightly bigger than the iPhone. Also, the unit has a built-in antenna and a kickstand. All the buttons are at the side of the unit that is clearly labeled and easy to use.
What's in the Box?
You will wonder what's in the box? and here are the things that are included in the VAVA baby camera package,
2 USB power cables 
Baby camera unit
Parent monitor unit
Final Thoughts
VAVA 720p 5″ HD display video baby monitor is considered as one of the top-5 Baby monitors with a long transmission range. This baby monitor allows you to monitor your baby when you are not in the same room and it gives you the freedom to do other things that you need to do. So, the VAVA baby monitor has won the hearts of many new parents.
Apart from the key features, the unit has several good things to like, as the device is user-friendly, durable, portable, and has a cool-wide angle lens accessory at $6.99. Thus this product has been designed with full care and attention, which gives parents peace of mind and everything they need to safely and easily keep their eyes close on their little ones.