If you are looking for the best night vision baby monitor, the Nanit Plus smart baby monitor is for you. The Nanit Plus Smart Night Vision Baby Monitor enables you to monitor your child or toddler when the parents are not in the same room with the child, either by listening to their sounds or interacting with them via a video monitor. Here we've given the Nanit Plus Smart Baby Monitor Review. It is very helpful for you.
The Nanit Plus baby monitor is perfectly suitable for every parenting style. It comes with many advanced features, like two-way audio, sound and motion alert, nature sounds & white noise, and overhead view with HD video. This baby monitor measures your baby's heartbeat and the amount of sleep. 
This baby monitor includes a camera that was thoroughly monitoring the baby. The sleepwear helps to monitor the baby's every breath, and the sleepwear operates with the camera. 
If anything is wrong around the baby, the baby monitor sends alert messages to the parent's smartphones. In this article, we explained the features and specifications of the Nanit Plus smart night vision baby monitor. This Nanit Plus Smart Baby Monitor review article helps to provide more information about baby monitor.
Nanit Plus Smart Baby Monitor
What is Nanit Plus?
Nanit was one of the initial to develop a smart baby device that allows a child to monitor their sleep. Nanit Plus is one of the most advanced Smart HD Baby monitors that monitors a baby. At the same time, they are asleep and monitor their movements, breathing, and other activities at their instance.
The baby monitor is not only intended for a baby, and it is also made for parents to help them sleep better. The Nanit Plus camera has many advanced night vision features. It records HD video and has a 130-degree field of view. It comes with humidity and temperature sensors to observe and monitor the circumstances in your baby's room.
Common Features of the Nanit Plus:
One of this Monitor's unique features is its camera able to transmit audio to your smartphone from the child's room background. It works even when your smartphone screen is locked. So you don't have to use the battery of your smartphone, which will drain out very suddenly when the video streaming lives.
It can to observe the baby's breathing in real-time and send or transfer alert messages if any unwanted issues happen from the baby's surroundings in your smartphones. This baby monitor is linked to Nanit breathing wear which is an essential wearable. It has three different forms like a band, sleeping bag, and swaddle. You can choose one Nanit breathing wear based on your baby's age and size.

The Nanit plus baby monitor comes with a custom-designed white and black pattern and is machine washable. The Nanit breathing wear is made with 100 percent pure cotton material. For those who don't understand the difference between sleeping and a swaddle bag, a swaddle is a bag that keeps your baby inside, including their hands. A sleeping bag provides your baby's hands to be outside.
Nanit Plus Smart Baby Monitor Features
Design
The Nanit Plus baby monitor is made with excellent quality material, and it works long-lasting. These baby monitors effectively monitor the baby both day and night time. 
It comes with an adjustable base, and the monitor's white neck and head are attached to the adjustable base. These baby monitor features work correctly, so you don't worry about it. It easily mounts on a shelf, wall, or floor stand.
Weight and Size
Talking about this night vision baby monitor's size and weight ratio, you will find that it is designed very lightly. These two aspects improve the mobility of your houses. It does not require large batteries to use.
Different Types of Connection Options
You will be able to see your baby's activities at any time of the day or night using this night vision baby monitor. This baby monitor provides excellent HD quality video footage of your baby for both day and night so that you can view the baby's activities every second.
If you are outside, you can easily monitor your baby using a wide variety of gadgets like your smartphones, iOS, Echo Show device, and Kindle Fire. 
You can speak and hear your baby with the help of two-way audio. Listen to your baby sound even when utilizing different apps or if your screen is switched off with background audio. The Nanit Plus Baby Monitor has adjustable sensitivity that provides motion and real-time audio notifications. Also, monitor nursery humidity and temperature and make sure they are comfortable.
Sleep Tracking
The Nanit night vision baby monitor provides your baby's sleep statistics for every morning. It also reels the highlights of their total sleep timing, so the parents can easily rewatch the baby's entire night activities in seconds. The Nanit app has baby sleep advice and guidance from the world's chief baby sleep specialists.
Audio & Camera Quality
The Nanit baby monitor has a high-quality HD camera that provides excellent quality images and videos. The camera gives a 130-degree diagonal view, with an additional 30-degree inclined wall mount. This baby monitor comes with a 960p resolution for both playback and streaming that is optimal for a crib aspect ratio.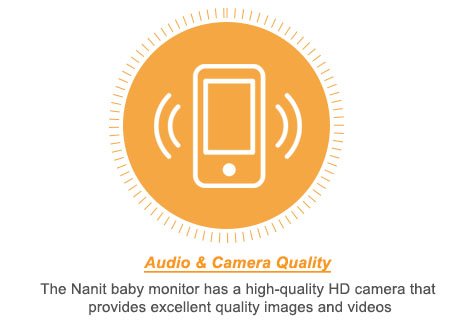 You can view the tiniest information in your baby's bed, and you also zoom in to view the baby's nostrils during their sleep. The sound quality is incredible, with a delay of about half a second.
When you have the primary Nanit app insights subscription, the audio and video will automatically be saved in the cloud for seven days. If you can select premium Nanit app insight subscriptions, the audio and video are automatically stored in the cloud for 30 days. When you can choose an unlimited insight subscription Nanit app, you will be stored the videos and audios endlessly.
Nanit App
With the most recent functionality and camera feed listed on the landing page, the Nanite app is easy to navigate. It connects to your smartphone in 2 seconds compared to other night vision baby monitors. So, you can easily and quickly monitor your baby day and night activities with the Nanit app's help.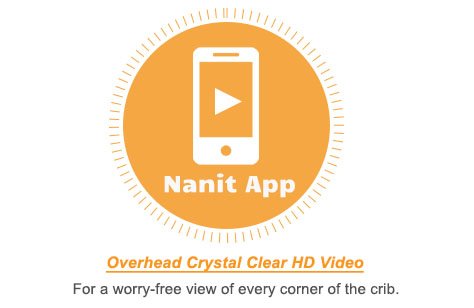 The Nanit app has five tabs that allow you to switch between inbox, live feed, functions, settings, and dashboard. The activity page shows times that the baby moves asleep, being carried out of bed, and attended by a caregiver. The dashboard records baby activities daily, enabling users to view graphs and maps showing the action at selected times.
The dashboard's main page represents the current day, which includes crib time, bedtime, number of sleep, and last waking hours. The video also shows moments such as a baby sleeping, receiving caregiver visits, and waking up. There is also a visual representation of the sleep process and a diagram that presents any disturbances. Face emojis are represented in the data of the previous day that show the quality of the baby's sleep. Large maps show the patterns and quality of sleep over long periods of time, like weekly and monthly. Inbox lists recommended insights depending on baby patterns, and it also has a setting tag that includes your subscriptions, camera information, and profile.
Creating Memories
The Nanit camera automatically captures your child's best moments in your Nanit app. This app stores the fun moments and growth for your baby every step, so you can see the videos and images wherever you are. You can also share the photos with your family and friends; Due to this camera feature, you can hold your baby's childhood memories for life long.
Safe & Secure
The Nanit Plus night vision Baby Monitor is HSA/FSA approved, and it has a 256-bit encryption that helps to save and secure your data. This baby monitor holds your account safe with two-factor authentication.
You can create a parent group with your family members and invite the entire parent group to access your baby monitor camera with user permission. You can easily watch what each family member can view and do.
This night vision baby monitor is designed with ten infrared LED light bulbs essential for nighttime use. It gives a crystal clear video and images for the user at night. So you are able to view your baby in complete darkness or low light conditions. 
If your child's bedroom light is dim, the Nanit camera automatically turns to night mode. Due to this feature, you can ensure that you use this night vision baby monitor at night. The Nanit Plus night vision baby monitor comes with 1920 x 1080 pixels resolution, so you don't worry about the video and image resolution.
Conclusion 
We hope you get some ideas for baby monitors after reading this Nanit Plus Smart Baby Monitor review.
When searching for a smart, useful, and reliable night vision baby monitor, the Nanit Plus baby monitor is the best choice. Today, many night vision baby monitor models are available in the market, but the Nanit Plus is one of the top-rated baby night vision models. 
It offers many advanced benefits for the user, and it effectively monitors your baby 24/7 hours. Nowadays, most of the parents used the Nanit Plus night vision baby monitor to watch their babies because of its features such as night vision technology, two-way audio, Records real-time videos and images, and many other features. 
It provides high performance both day and night, and it also sends an alert notification to the parent's smartphone if there is any problem with the baby. If you have a Nanit baby monitor, your home is very useful and helpful to monitor your baby.
It is designed with high-quality material and provides excellent performance and service. We recommend you to choose the Nanit Plus Smart Baby Monitor for your baby because of its high-quality night vision technology and completely packed advanced features.
Hope this Nanit Plus Smart Baby Monitor Review was helpful to you!