The ordinary hunting experience turns into an adventure depending on what type of rifle scope we choose to aim and attack the target. A customizable rifle has many parts that give the user the opportunity to modify the left and right parts.
There are some important and primary upgrades to many uniquely made rifle scopes that will have an impact on you during the shoot.
Although the rifles are made to a standard, a standard scope helps to accurately locate the target, which is very supportive of the hunt as it shows every movement of the target accurately and quickly.
If a person wants to hunt a target without the aid of a firearm, he is more likely to lose his full potential in vain. The scope is to magnify the target with a basic structure called glass optics.
Glass optics provide a point of view to determine where the bullet emitted from your rifle goes, not just for sight. All currently manufactured rifles come with a magnification range of 0 to 40X and above.
Such magnification range is very helpful in achieving short-range, mid-range, and long-range targets. The distance between the target and you can be a huge obstacle when hunting, at which point you can adjust the magnification range to suit your intended shooting type and turn your hunting experience into an achievement.
Let's glance at the 10 distinct types of rifle scopes and explain what divides each type.
Types of Rifle Scopes
1. Fixed Scope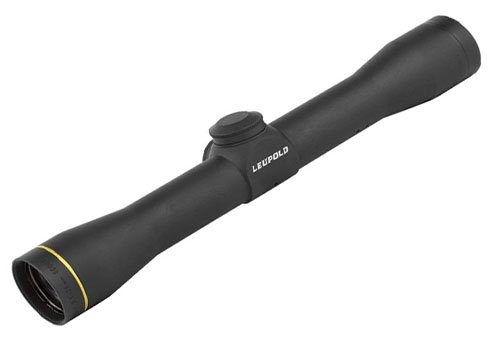 In these 10 different rifle scopes, fixed types of rifle scopes are one of the fundamental varieties of scopes. Other adjustable magnification types of scopes allow the user to enlarge the target. But fixed scopes are equipped with a single magnification level which means the user can't change the range of magnification.
When utilizing a fixed-type rifle scope, the user can not zoom in or zoom out for getting an accurate view of the target. Though fixed scope comes with a single magnification range they tend to be less expensive for this reason.
2. Variable Scope
In contrast to the fixed scope, variable scope permits you to adjust the level of magnification that suits your situation. These types of scopes come with a series of numbers in the name, for example, 5-20X56.
In this name, the first two numbers (5-20X) signifies the range of magnification, the last number 56 signifies the size of the lens. In this example, the rifle scope comes with a magnification range from 5X to 20X.
3. Tactical Scope
These days people refer to almost every gear involved in hunting as a "Tactic", but a tactical scope is built specifically for a distinct type of shooting. These scopes were set to expand the range of constant involvement for infantry, to accurately target the goal, and to quickly detect even fast-moving targets.
Produced by a combination of the unique structure and innovative technologies, these tactical scopes still serve as the perfect opportunity for the military to this day. Tactical scopes are made for short-range and mid-range targets so they have a limited magnification range.
To be more specific, these are not suitable for long-distance shooting. Tactical scopes, often designed with a 0 to 4X magnification range, come with a simple reticle structure. This reticle can make it easier to get to targets quickly near the middle range.
4. Red Dot Scope
Usually, red dot scopes haven't any magnification range to zoom in or zoom out the view of the target but some of them have a little range. You can view the single red color dot in the middle of the optic while you see through a red dot scope.
Although the red dot on your target is not visible like a laser view, it is a color that is only visible within the target range. This sort of scope is commonly utilized by the tactical scenario competition shooters, and it is a famous scope in close-quarters shooting.
The reason these red dot scopes are so popular is that it can be used to quickly find your target and create accurate shots. Due to the lack of magnification range, the red dot scope is not much suitable for long-range targeting, but it is one of the best options for close-range and mid-range target shooting.
5. Night Vision Scope
If you have been involved in a lot of night hunting then surely night vision scope will help you. Usually finding the target in low light is the biggest challenge, while accurately targeting the fastest moving target in the dark will not be so easy.
If you want to hunt in low light conditions, darkness, and pitch darkness you can consider a quality night vision scope. This type of scope allows you to see the target accurately even in the dark using an infrared glowing structure, which allows you to see the target even when there is no light.
All of the night vision scopes currently being produced are day and night vision ability. So you don't have to spend separately to hunt in the daytime and in the dark.
6. Long Range Scope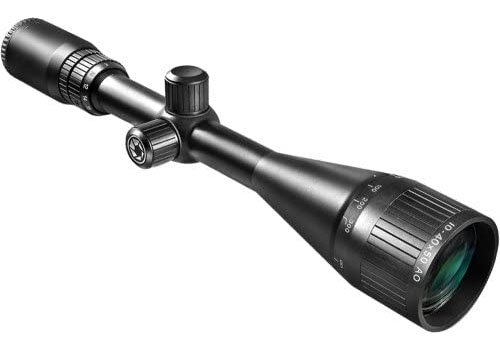 Long-range scopes are a wide range of rifle scopes that cover a number of important scopes, including sniper scopes and competitive scopes. All scopes manufactured over approximately 10X magnification range and these long-range rifle scopes designed to accurately target long-range objects.
Most scopes produced in this way involve variable type magnification. However, some of them are also fixed long-range scopes.
7. Competition Scope
Competitive scopes with the highest magnification range are heavier and less durable. Due to its heavyweight, most people do not like to use it for hunting or tactical situations. The downside is that most of these do not change light.
In competitive shooting, you will often go to targets from considerable distances while these provide the highest magnification range. Some even say that the more powerful competition scope provides extra brightness. Made with magnifiers up to about 40x, these scopes are used to target very fast-moving targets over long distances.
While these scopes are often rejected due to their weight some of these are really overpowering. They are huge in weight and size compared to other scopes, so it will add extra size and weight to your rifle.
8. Hunting Scope
Hunting scopes are less complex and more robust than the many types of rifle scopes sold on the market today. Most of these purposes are made of premium-grade materials, so they are light in appearance, powerful in use, and come with weather resistance.
Hunting scopes made for hunting purposes are usually not done over long distances so they come within a certain magnification range. That means hunting purposes usually come in a magnification range of 20x or less. Many of these are fixed magnifications and many are variable magnifications.
Most hunters prefer something as simple and easy to use as this scope has fewer distractions. The hunting scope is usually focused on creating a bright and clear image with any other features or functions in any weather.
9. Scout Scope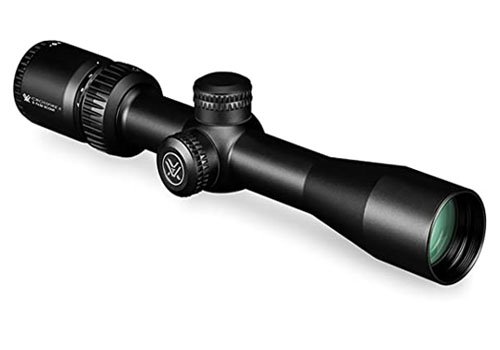 According to the structure and operating methods, scout scopes are similar to tactical scopes. These are usually utilized by both hunters and military people to find the target even in more dense and dark forests.
Most precisely, deer hunters often used scout scopes to get a better view of angle and clarity visuals.
Generally, scout types of scopes are manufactured with low magnification ranges which are between 2X to 8X, with this scope with 7X magnification range is the most popular among hunters. They come with limited adjustability that makes this scope very simple and unique.
10. Sniper Scope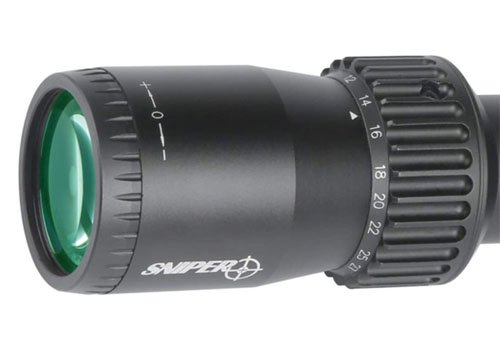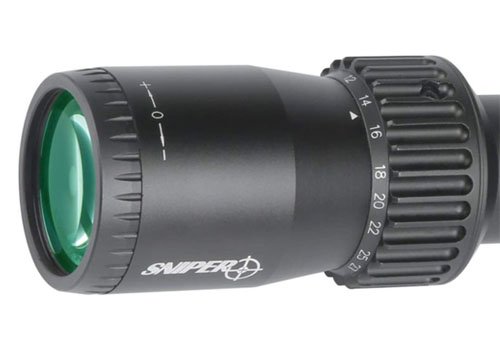 It is a misconception of various people that snipers, like competitive snipers, use quality rifle scope with the highest magnification range. But the truth is that snipers are more likely to use useful information with an on-screen reticle for moderate-running scopes. 
Snipers serving in the military use a standard rifle range with a magnification of 10x, which delivers more power in the field than expected.The Mil-Dot Reticle is fitted for this type of scope as it gives the shooter a lot of information about airflows, distances, and more. 
Accuracy is a necessary and essential aspect for a sniper, considering that sniper scopes are built with very small adjustment towers. These adjustment towers allow for precise movements even at small increments.