Do you love adventure? Or love to watch jiggling birds or butterflies and excited to see them live? Then this article is for you.  
Here we have reviewed one of the best bird-watching monoculars, it's Polaris Night Vision 12×50 High Powered Monocular. 
It comes with great optics and offers you bright and crystal clear images. The Polaris Optics Explorer is considered one of the powerful handheld monoculars sold on the market. 
Also, it's the favorite choice among hunters, bird watchers, and outdoor enthusiasts.
This monocular is specially designed for high power, long-distance viewing, and clarity during the daytime. 
Also, this monocular is great for observing wildlife, watching birds, scouting out the scenery, hiking, golfing, outdoor, and long-distance viewing. 
Usually, monoculars are always better than a pair of binoculars as it is comfortable, easy to handle and portable. 
A monocular is essentially a lightweight and modified refracting telescope used to magnify the images of distant objects by passing light through a series of lenses and a prism. 
Unlike a pair of binoculars, a monocular requires one eye to be used effectively.
Besides being good for hunting, bird watching, and wildlife observatory, the explorer is also great for many other activities such as hunting, sky gazing, golfing, sporting events, opera, concerts, etc. 
Before you purchase a monocular, it is necessary to know about the different features and styles of the optics. Let us have a look,
Features of Polaris Night Vision 12×50 High Powered Monocular
Magnification
The Polaris Optics Explorer has provided stunning 12x closer magnification, and it offers you an extreme clarity and bright view with a 50mm objective lens. 
As a consequence, it allows seeing objects up to 1000 yards away, making it a reliable tool for viewing the sky up close.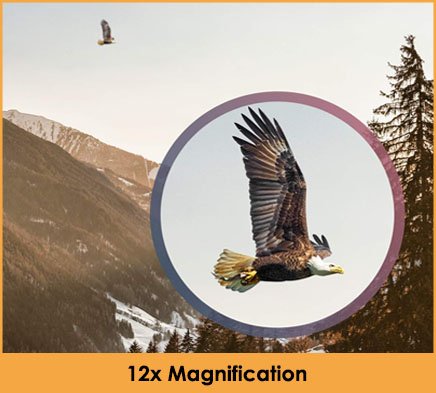 Also, it helps to see much clearer during the dusk or dim-lighting areas than with your naked eye. So that you can go out viewing in any weather conditions. 
Most of the users have elated that the Polaris Optics Explorer has excellent focusing quality, and it won't have any typical aligning issues. 
This powerful handheld monocular is purely an optical instrument with a manual focus that works great for watching nature.
Optics
A good prism allows you to view the images clearly when you look into the monocular. 
Therefore, the Polaris Optics Explorer monocular is incorporated with a BAK-4 roof prism type that gives you outstanding color dispersion and amazing clarity. 
The optics are fully multi-coated, and they have anti-reflective coatings on all air to glass surfaces. 
It has an adjustable and twist-up eyecup, so anyone can use it with or without spectacle. On the center of the monocular, there is a knob for focusing, which allows working with one hand. 
The knob is smooth to touch, and it turns easily. While adjusting your grip, you need to refocus your monocular. 
Some of the users have reported trouble focusing and also regarding night vision. 
The explorer is specially designed for daytime use, and its excellent focusing range allows us to see the objects more clearly and sharply than any other monoculars available on the market.
Highly Durable And Protected
The lens and the body are well protected, and it's very strong and durable. Rubber armor provides shock resistance, non-slip handling, and long-lasting. So there's no chance of dropping your monocular. 
Also, the grip is very economical on this monocular so that you can hold it comfortably in your outdoor adventures.

The body of the scope is fully multi-coated, and the O-ring sealed lenses are to prevent any harm and keep out dust, debris, and water getting inside of your monocular. 
The monocular has provided a cover to protect the lens and eyepiece from getting scratches. It measures 3.1″ long by 6.4″ high and 1.9″ wide and weighs about 14.5 ounces. 
All-round, the ergonomic design helps you focus on your target precisely and quickly with just one hand.
Resolution
The high-resolution monocular gives a sharp focus to the people. It offers a good magnification of the objects. 
If you are searching for good imagery with an excellent magnification range, then this monocular choice provides you with all you need in optics.
Waterproof and Fogproof Construction
The Polaris Optics Explorer comes with one of the best weather-resistant constructions in the industry. 
The monocular is designed in such a manner to prevent moisture, dust, and debris from getting inside your device. 
Additionally, the monocular features a waterproof and fog proof construction to prevent it from rain, moisture, dust & dirt, thus it comes with resistant quality. 
Hence these factors allow you to observe wildlife or any other outdoor adventures in any weather conditions.
Accessories
In the product box, you could expect to find when you receiving your monocular,
Polaris Explorer High Powered 12-50mm Monocular

Objective lens cover 

Eyepiece cover

Shoulder Strap

Tripod

Carrying case
The Polaris Explorer 12×50 high powered monocular comes with a stainless steel tripod that helps you to keep steady the monocular when observing a specific object and lets you with an excellent stable and hands-free viewing. 
A thing to remember that the tripod is not built to last as much as the monocular. 
A lens cover that protects the lens from being scratched. Also, it comes with a lens cleaning cloth and a shoulder strap. 
A Nylon Mesh Carrying Case is provided by the manufacturer that helps you to carry your monocular safely and securely during your travel or outdoor adventures. In addition to that, you will get four E-books on bird watching. 
Another good thing about this Polaris explorer monocular is that, comes with a lifetime warranty. Isn't that cool? Yet you have to be very careful with the terms and conditions in which your guarantee and warranty info can work. 
For further clarification, you can visit the Seller warranty description, and you can get in touch with the Polaris Optics customer support team. 
How To Maintain It?
It has a strong coating to resist corrosion. So, it can tolerate all types of weather conditions. 
It includes a special cleaning cloth to remove the dust present in the lens. When you are in motion, the carrying case is used to protect the monocular.
Tips To Care For Your Monocular
Generally, a monocular requires only a small amount of maintenance, which Guarantees your monocular will last over time. The following ways are,
Always use a microfiber and non-abrasive lens cleaning cloth for cleaning your lens, provided by the manufacturer. Never use a rag or any other clothes, and wash your cleaning cloth if there is any dirt on it.
Use a protective case to

maintain your device from dirt, dust, debris, and even moisture, when you are not using it.
After using the device, wipe off the lens. To remove the dirt or smudges from the lens, use rubbing alcohol. Avoid excessive cleaning because it can damage or scratch your lens.

Most of the monoculars come with a neck or wrist strap. So use the strap during hunting, hiking, or any other outdoor adventures. This will help to prevent your monocular from accidental dropping.



Keep your monocular in a dry place so chemicals and moisture can't corrode it.
Before using or cleaning your device, follow the instructions provided in the user guide. It will help you to keep your device in good condition.
Applications
Marine 

Birding 

Opera Glasses

Military

Hunting

General Purpose
FAQs – Polaris Night Vision 12×50 High Powered Monocular
1. Which is better: binocular, or Monocular?
A monocular is just similar to the set of binoculars cut in half. The major difference between the monocular and a pair of binoculars is obvious. A monocular has one eyed-viewing tube, while a binocular has two. 
Usually, monoculars are terrific for watching birds, and also they are compact, portable, cheaper, and easy to use.
2. What size monocular do I need?
It's the main thing to consider while purchasing a monocular. You have to choose the right one depending on your purpose. Selecting a compact device will easily fit in your pocket also, and it is easy to handle. 
3. Who are the Manufacturers of this Monocular?
This monocular is manufactured by Polaris Optics, a company that has been producing devices for several years. Also, they are producing the best monoculars and binoculars at affordable prices.
4. Does it run on Batteries?
No. The Polaris optics doesn't require a battery to run.
Conclusion
Well, this Polaris 12×50 High Powered Monocular is a money saver gadget.  The Polaris optics explorer from Polaris optics is a very powerful monocular, as it can produce clear and bright images. The Polaris optics explorer 12x50mm high powered monocular has built-in a compact design and is geared towards the one-hand operation. If you are looking for a good monocular, undoubtedly this monocular is the right choice for you. The quality of this monocular is appreciated by hunters, wildlife enthusiasts, and meter readers. Moreover, it's one of the best selling monoculars that are available on the market.