Back in the years when the army, navies, and other types of special forces were not yet established, it can be said that the safety of people from different countries is not ensured. 
are a great help for the people especially when the war period in the whole world started. So, these types of special forces are an integral part of the world that people live in today. 
With that said, one of the special forces established by one of the first world countries is the United States Navy SEAL—the SEAL acronym means Sea, Air, and Land. They are commonly known as the U.S. Navy SEALs. 
In fact, this team of special forces is now the United State's primary force that conducts a lot of operations—may it be small operations or big operations. 
They are the ones that are responsible for conducting operations in the jungles, seas, mountainous regions, urban places, and even desert environments. 
With all the responsibilities given to them, it is just a need for them to be equipped with the best gears and gadgets in order for them to conduct their missions successfully. 
it comes to the missions they do in the morning, they do not have much problem since people are made to be awake and moving that time. But when it comes to nighttime, their vision is not that sharp just like how sharp it is in the morning. 
Since they are known to have successful missions too at night, you might be wondering about what type of night vision devices they use. 
Well, you do not have to think about that anymore since we are going to feature a specific product that they use for their missions and the specific night vision technology that is used for their gears and gadgets. 
Without further ado, here are some of the basic knowledge about the night vision technology used by U.S. Navy SEALs.
GPNVG-18 Night Vision Goggles
One of the night vision devices used by the U.S. Navy SEALs is the GPNVG-18 Night Vision Goggles. They use this type of goggles in order for them to see better and easier at night. It is a very powerful device with a lot of intensification tubes. 
In fact, it has four intensifier tubes that have different lenses too. The two lenses at the center are made for usual tubes that are used for seeing while the outer two are being used to improve the peripheral vision during the most serious missions. 
When this night vision goggle is purchased, there are some other free accessories that are included in the whole package. Some of these accessories are the following: one connection cable, one storage box, one kit for cleaning the lenses, some batteries, and one transport case that is padded. 
Best Features of GPNVG-18 Night Vision Goggles
One of the most important features of this night vision goggle is the finish for its exterior casing or housing. With the FDE finish of this night vision goggle, you can be assured that this device is resistant to corrosion. 
With that, you would no problem even when this night vision goggle is exposed to some elements that might cause rust or corrosion to occur on it surfaces.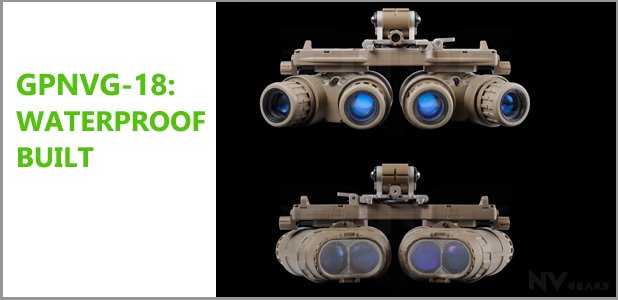 With the waterproofing properties that this night vision device is built with, you would experience no trouble when you use it during a heavy downpour of rain or even when the condition gets moister than the usual. 
In fact, the waterproofing of this specific night vision goggle is so strong that it can be immersed in water of one-meter depth for two consecutive hours. This waterproofing built is a factor that makes this night vision goggle's durability to be more proven and tested. 
The MX-10160 tube type of this night vision goggle is one of the best types of tubes that can be used for night vision goggles nowadays. The four 18-millimeter tubes are known to have properties that make it easily adjustable. 
One of the main problems with other night vision goggles is being damaged easily. So, with this specific night vision goggle, you would have no problem with that due to this specific feature.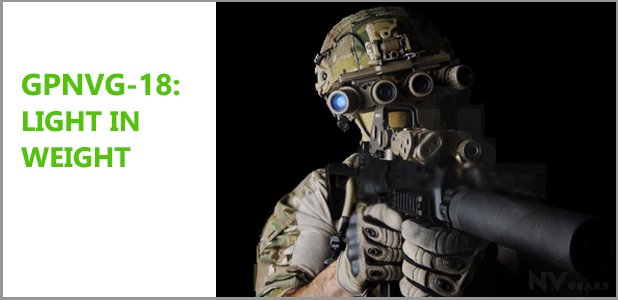 The weight of this night vision goggle is also very light that U.S. Navy SEALs do not have any problem in carrying it during their missions. 
The 27-ounce weight is just perfect for the missions done and it does not prevent the whole team from moving fast since there are missions that would require them to move swiftly. This is a feature that makes this night vision goggle very easy to be used and mounted on the head. 
Generation III Night Vision Technology
The types of night vision technology used for this night specific goggle is the third generation—this is by far, still one of the most recent inventions in the history if the improvements made for night vision technology. 
The third generation of night vision technology uses a very powerful photocathode made up of gallium-arsenide. Compared with the first and second generation of night vision technology, the third generation works similarly. 
They just mostly differ in the photocathode used. The gallium-arsenide used for the third generation is still one of the best image intensifiers these days. 
So, with this type of night vision technology, this specific night vision goggle has the ability to produce bright and clear images of the environment that you are viewing through its tubes. 
Takeaway
The use of this night vision goggle has greatly been of extreme help when it comes to the most successful missions conducted by the U.S. Navy SEALs. The price that this device is offered is just right for all the construction and features that it provides. 
Besides, its features are more useful than it is expected to be. In addition to that, this specific night vision goggle is perfect for long missions since it has an operating time that extends for up to 30 hours.