The FLIR ONE Pro is for pros, homeowners, and hobbyists who need a powerful smartphone thermal imaging camera with good image quality and a wide temperature range.
The FLIR One Pro provides top-class performance that all the experts and beginners expected from the brand. Beyond the FLIR One and the FLIR One Pro LT, the FLIR One Pro scores more in terms of image resolution.
FLIR thermal imaging camera offers an 80-by-60 resolution for its consumer-level Flir One camera accessories for years. The ONE Pro is compatible with most smartphones, including Micro USB android devices, USB-C Android phones, iPhones.
As for thermal imaging, the FLIR ONE Pro is perfect for basic professional works and home DIY projects. The FLIR One Pro is equipped with a 19,200-pixel resolution that makes the thermal camera more sensitive.
Furthermore, it has the potential to measure high temperatures accurately than the previous editions of thermal imaging cameras manufactured by FLIR. Basically, this device is designed to connect with a smartphone that is composed not only for professionals but also for hobbyists.
This camera comes with decent resolution, ultra-wide temperature range and it is constructed with a rugged design that all make it safe to utilize at job sites and home. We always make sure that every product we review is thoroughly and quality tested.
Our team of experts used it under various conditions to verify how the FLIR One Pro works and finally compiled it systematically based on testing and have published it as a review. Let us dive into the complete review of this Flir One Pro review.
Read Also : FLIR C3 Thermal Imaging Camera Review
Why Should You Consider the FLIR One Pro [Noteworthy Features]
Design
The FLIR One Pro looks more rugged than Flir One that feels solid in hand, then it is equipped with a chunky black body and comes with sharper angles that make the device a piece of professional imaging equipment. With a dimension of 2.7 x 0.6 x 1.4 inches, the device is designed to be compatible with most smartphones, albeit slightly thicker.
Albeit the device has a blockier look, it comes with a height and weight of 2.7 by 1.4 inches it's nearly a similar width & height as the Flir One. Including only a 10th of an inch deeper at 0.6 inches. It comes with a Type-C USB connector that sits level with the top of the panel.
But you can increase it by 0.3″ by utilizing a mechanical dial that comes along with the package. Adjusting dial is one of the great features that the nightvisiongears team loved. Most prominently, the adjustable-height enables you to utilize the camera even with a thick casing on your smartphone.
You can choose anyone from Micro USB, USB-C, or Lightning, but the connector is located in the center of the top panel of the thermal camera. It is flat with the top panel by default, but an adjustable mechanical wheel beneath the connector permits it to enlarge an added 0.3 inches, thus providing the user the chance to work on virtually any phone case.
On the bottom of the device, you can find the power button and Type-C input included with a USB A-to-C cable that is used for charging. The thermal imaging camera comes with an inbuilt lithium-ion battery that can last for 50-60 minutes with heavy use. The device gets fully charged within 40 minutes.
Quick battery drain is expected when advanced features and high image quality are used more and more consistently. Apart from the charging cable, the Flir One Pro contains a strong, zip-up case for storage.
The front or back panel of the device exists the two cameras of Flir One Pro, followed by one on top of the other. The first camera is the thermal core, which has a sensor with a resolution of 160-by-120 that inspects heat through infrared emission of the object. This is the prime part of the Pro model, and one of the most valuable elements of the device.
The second camera is a conventional visual camera that has a resolution of 1440-by-1080. This visual camera is designed to work with the thermal core to deliver videos and images of higher resolution than 160 by 120, through its MSX (Multi-Spectral Dynamic Imaging) feature.
If you are outdoor enthusiasts who need a thermal imaging camera then go with FLIR One Pro that won't disappoint you in any way. It can easily absorb shocks and drops that have a 1.8-meter drop test rating.
It consists of durable rubber edges that give not only more safety to the device but also enhances the overall ruggedness of the device. Be careful when handling this camera in wet environments because it doesn't come with an IP rating.
MSX Technology
The FLIR One Pro Thermal Imaging Camera is incorporated with Multi-Spectral Dynamic Imaging technology (MSX), and this aspect renders depth information to your thermal images.
MSX is the patent-pending technology based on the unique onboard processor of FLIR and it offers exceptional thermal details in the real-time thermal image.
Multi-Spectral Dynamic Imaging technology consolidated with a real-time video that enhanced with visible spectrum definition. To add more detail to the final result, FLIR's this version overlays pictures from a visual and a thermal camera.
Not only just viewing cold and hot areas, but you can also see where those spots are. This temperature spot finding technology makes it simple to find where the problem is.
High Resolution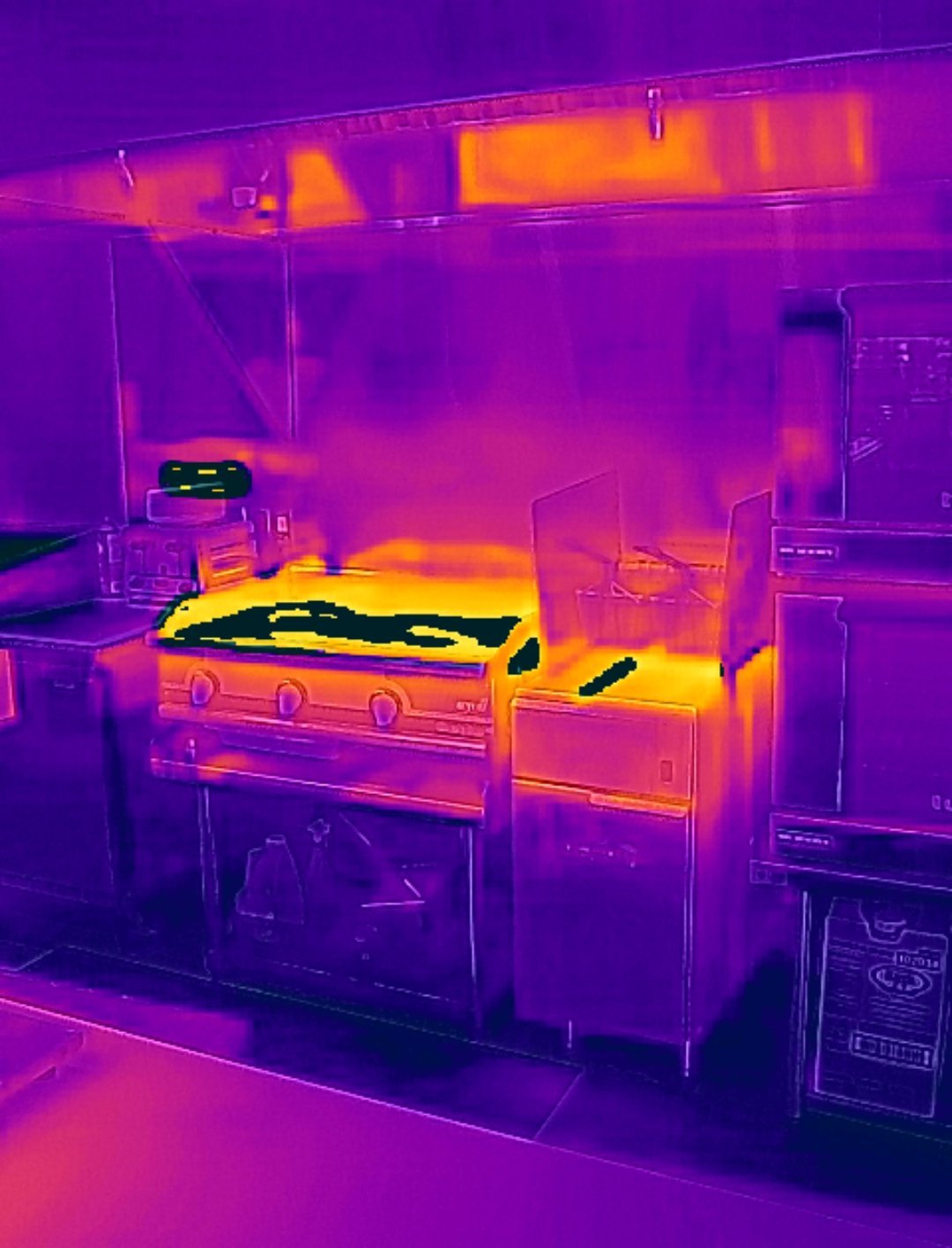 FLIR One Pro is equipped with an impressively high-quality thermal sensor with 160 x 120 (19,200) pixel thermal resolution. This high resolution provides detailed images even if you are in a long-distance.
It has the capacity to detect an animal or a person from 130 feet of distance thus it makes the device ideal for both long-range and short-range applications. The FLIR One Pro thermal camera is also incorporated with FLIR's proprietary VividIR™ technology that improves thermal resolution to combine more clarity and detail to the thermal images.
Just use the great FLIR ONE Pro if you are looking for pests hiding in the walls or you are going to inspect factory equipment. Besides, this thermal camera comes with a spectral range of 8 to 14 µm. An ordinary visual camera with a resolution of 1440 x 1080 pixels is located on the top of the device.
To provide crisp images the patented MSX imagery technology blends a thermal image with a visible image. The minute details of the thermal signatures are also captured to add perfection to the thermal image, which is found in our test. Thanks to its extra pixels because the image clarity is extremely good when compared to the FLIR One Pro LT.
Also, the high sensitivity fitted in the camera is capable of detecting temperature differences up to 70 mK. With this, you will get a sharp contrast between the cold and hot zones in the picture. A study by a team of experts demonstrated that this device captures thermal signatures from footprints.
This device is easy to use and provides excellent output for people working in camps and wildlife enthusiasts. In addition, experts have advised that this device, which works using thermal technology, has the potential to work well even in complete darkness and can be used in any climate. It is also a good thermal imaging camera for security purposes besides hunting and exploration.
Imaging Options
The FLIR One Pro comes with a total of 9 different color palettes. You can choose your preferred option by switching just the visual or just thermal option by tapping on the menu option that pops up from the screen's lower right corner.
This pop-up menu also allows you to choose from those 9 color palettes that include the fundamental orange-and-purple Iron palette. You can view the thermal readings with 5 other color grayscale, gamuts, and the grayscale with the hottest parts of the frame highlighted as red in color or the coldest parts of the frame highlighted as blue in color.
If you are confused about what each color represents, the IR Scale option in the pop-up menu on the device's screen will help. This option shows the full-color range of the palette you selected, with the minimum and maximum detected temperatures listed.
The top of the screen has one crosshair button that offers 3 different temperature meters thus you can get precise temperature measurements. You can obtain the systematic temperature based on a rectangular space, or larger circle, or a single spot.
The measured temperatures appear in the middle of the screen, and you can also drag the temperature with your finger to inspect the temperature of anything on the screen. Although this measured temperature is not much precise as a thermometer, it provides a valid measurement.
All the videos, images, time-lapse recordings are saved at 1,440-by-1,080 resolution and you can be captured through the FLIR application. Depending on the Android or iOS versions of the device the videos you shoot are saved as MOV files or MP4 files.
The FLIR app holds all the thermal imaging data, permitting you toggle among visual, thermal, and MSX views; meter specific temperatures; regulate temperature ranges for the chosen palette; change palettes.
The most efficient feature in this system is that you can adjust whatever you want to adjust in it when you take the picture even after taking the picture. Then you can then save and share a regular JPEG file through any application or service on the phone.
Ultra-wide Temperature Range
To say simply, this thermal imaging camera designed for smartphones offers excellent performance and sensitivity. Featuring a 12 µm pixel size thermal sensor, this device provides superior thermal imaging.
In most instances, people do not want to use the high-temperature mode, which extends the 752°F limit. The reason is that they assume that the device will not provide clear output in the high-temperature range, which is completely false.
The device provides very clear and detailed image output even at a high-temperature range. This device is a boon for professionals such as firefighters who struggle to rescue people trapped in smoke and darkness.
Since the wide temperature range makes it a very versatile device for a variety of purposes it is a common thermal device suitable for both DIY projects and basic professional tasks.
The device also has the standard mode that has a temperature range of 248°F. This temperature range will be adequate to check the electrical circuits and hot water pipes. On the lower end of the temperature range, you can go below freezing to -4°F(-20°C).
If you have a restaurant or bakery, you can use the FLIR ONE Pro to check out your hot stove regularly, this device is for you to make sure the heat is consistent and that it does not release outside.
Top-notch Accuracy
The thermal imaging camera is consolidated with an accurate level of ±3°C or ±5%. It operates on its best accuracy level while the screen is between the range from 5°C to 120°C.
Our testing team examines some of the temperatures of the imaging camera with the reading from a thermometer. During the test, the distance and surface texture significantly affected the camera's accuracy levels.
Although the measurements measured by thermal cameras are not as accurate as the measurements measured by a thermometer, they provide sufficient accuracy to suit the detections.
Therefore, they are very popular in the fields of security, leak detection, thermal testing, and firefighting
Thermal Power
The phone-based thermal imager is the most powerful consumer-level feature of FLIR One Pro. The device has the ability to measure high temperatures, and it is very useful and handy for all the people who are looking for a thermal imaging camera like a smartphone structure.
It has several measurement options to check the temperature anywhere in the frame. All the information you can get with each shot is stored as data. FLIR One's center-spot-only meter is a significant boon for users.
And this essential thermal device comes with most of the updated features and additional technologies that make it the best consumer-level thermal camera.
Wide Compatibility
USB-C Android devices, Micro USB Android devices, and iOS devices are the three versions of devices that more likely compatible with the thermal imaging cameras. So you don't have to worry about the device you have, because FLIR One Pro is compatible with 3 different types of systems so you can use the One Pro on any type of smartphone.
Note that the compatibility of Android devices begins with Android 5.0 Lollipop, and the iOS devices compatible only with iPhone 5. The most typical query people inquire about FLIR ONE Pro is whether it works with a phone case.
The experts' answer is that of course, it works with a phone case. FLIR has launched a new aspect known as OneFit™. With this, Micro USB or USB-C connector can be extended up to an extra 4mm. The FLIR ONE Pro is capable of working very compactly and fast, even if you use a very thick security case on your phone.
FLIR App
The FLIR One Pro thermal imaging camera is compatible with iOS and Android devices that require an application called FLIR One to function optimally and modify their settings. After installing this app on your smartphone you need to connect the FLIR One Pro thermal imaging camera to your phone and then turn on it.
Once the app starts running you can see the thermal readings on the phone screen. The scenes displayed by the camera are displayed on the screen, i.e. the main screen of the application is a camera display.
It shows a live feed from FLIR One Pro cameras in MSX mode. By using this smart application you can simply handle the emissivity, adjust temperature ranges, adjust the color palette, and turn the MSX aspect on/off.
The software of the application is most responsive and very uncomplicated to use. The application also offers a Tips & Tricks option that provides many great ideas for first-time users of the device.
FLIR One also comes with a community tab that aids you to connect with FLIR's social media accounts. The thermal core of the FLIR One Pro is equipped with higher resolution than FLIR One Pro LT and FLIR One that has 80-by-60 cores.
FLIR One Pro has a 160 by 120 thermal core thus it shows vague shapes and broad blotches on its own. So that FLIR utilizes MSX image processing to blend ordinary visual cameras with thermal cameras thus it provides a more detailed and larger view.
Final Words
To be very frank, the FLIR One Pro is constructed with very solid and it provides exceptional performance to the user who all are using this thermal imaging camera for inspection. 
Although the thermal camera is designed to be a consumer-sized device, it will be one step ahead of other competitors as it offers advantages such as a wide temperature range, high image resolution, detailed image resolution, and clear output. 
Besides, this standard thermal imaging device is built with a very rugged feature to withstand all external factors that makes it ideal for outdoor adventures. Professionals who need the best publication will visit homes, shops, and many other places for inspection. 
At such times FLIR One Pro becomes the practical choice for home improvement projects for users. While there are a few drawbacks to this system, it would be best to consider its biggest advantages without taking them into account. 
If you want to add thermal imaging ability to your smartphone, choosing the FLIR One Pro thermal camera will be of great benefit to you and your inspection.