Are you looking for an ideal type of optic for hunting, defense, or law enforcement needs? Nowadays, there are several sights available on the market. 
Most of the hunters liked to use holographic and red dot sights that helped to improve the hunting experiences. 
The red dot and holographic sight offer many features and benefits to the hunters. If you are confused about using the red dot sight and holographic sights, We've provided complete details of the different features of holographic sight and red dot sight technologies. 
So you are not confused about it. We also provide the details about  how they work, so you can find out what best meets your needs.
Holographic Sights
The holographic sights are also known as holographic diffraction sight and holographic weapon sight. 
The holographic sight means non-magnifying gunsight, which enables the user to see through an optical glass window. It also allows you to view a holographic reticle image that is exaggerated at a distance from the view.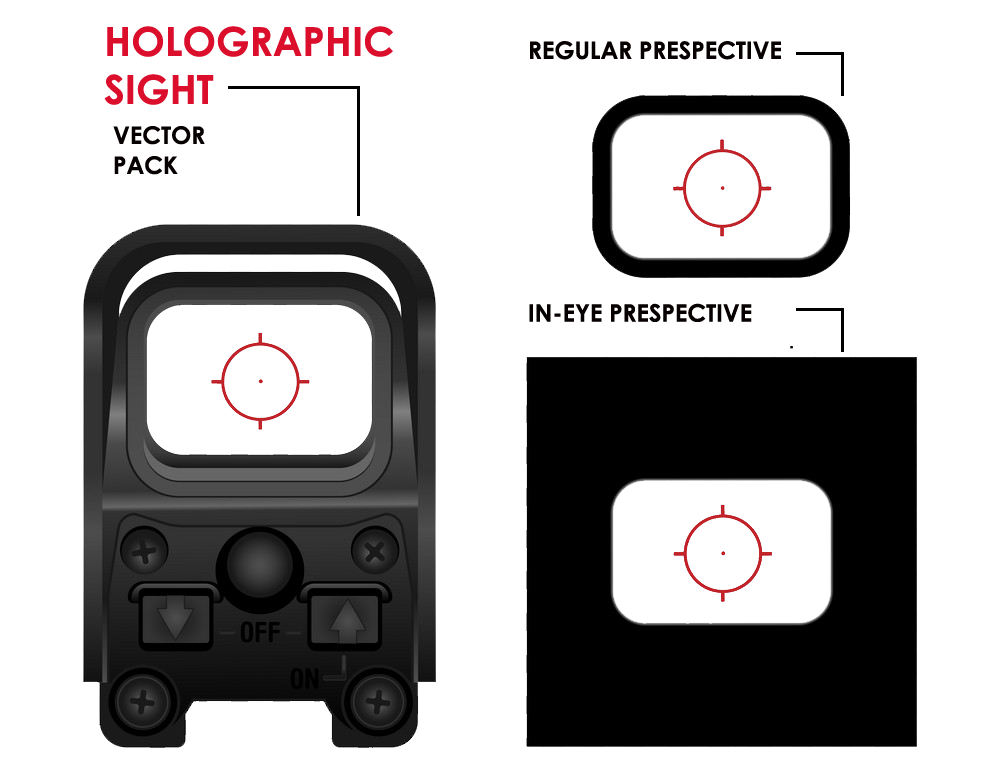 Benefits
Instead of LED light, The holographic vision creates a glowing shape in a circular or dot shape via a laser, which reflects a phase. The scorer perceives the holographic image floating above the target.
Red Dot Sight
The red dot sight is one of the common types of non-magnifying reflector sight for pistols or guns. Other sights aim to provide a target to the user in the form of an illuminated red dot.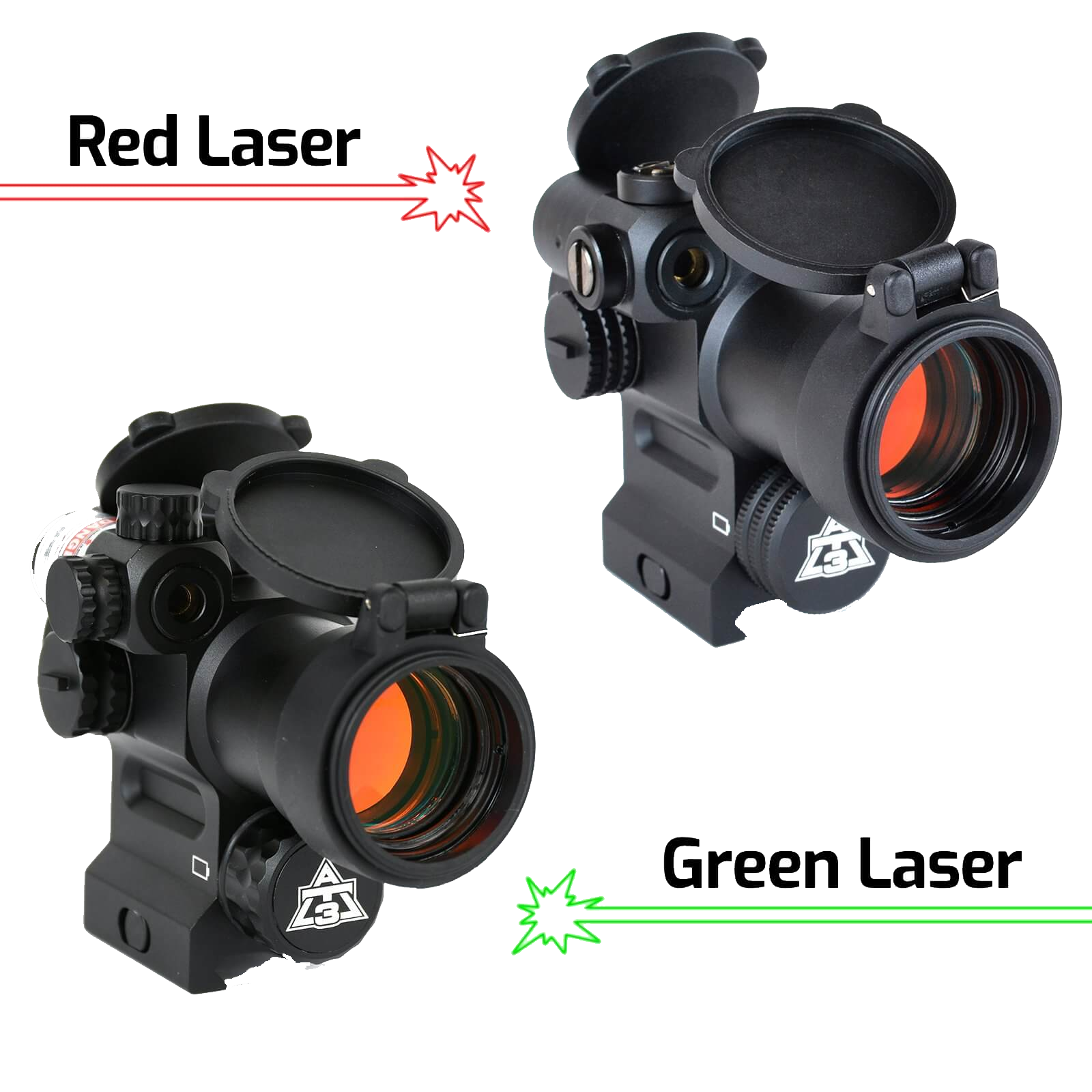 Benefits
The red dot enables quick target acquisition, and it comes with a combination of accuracy and speed, so most beginners and experts choose red dot sights. The Red dot sights are performed without optical distortion and magnification.
Comparison of Holographic and Red dot sight
Today, most people compare holographic and red dot sight because the two sights are quite similar. These two sights are designed to use at close distances, and these two sights are easily mounted modern sporting rifles like AR 15. 
Even new snipers should use them to attack the rapid center of mass shots up to 50 yards. Both holographic and red dot displays have electronically operated reticles.

Usually, both sights are powered by batteries, although few optics utilize solar energy as a primary power source. For example, the Holosun HS403C contains solar energy; it converts red dot sight from battery power to solar power when enough light is available. 
Compared to a traditional iron sight, holographic and red dot sight provides faster target acquisition and a higher accuracy level. 
Both electronic optics offer a lot of benefits compared to other magnified optics. These sights also offer parallax-free and ultimate eye relief. 
You can have both eyes open while using a red dot and holographic sights, which will provide you more situational knowledge than scopes or iron sights.
How Holographic Sight and Red Dot Sight Work
Red Dot Sight 
The red dot sights are one part of the solution, eliminating the traditional way of shooting a gun with one eye closed and completing the shot using another. It helps to reach the target accurately in the near or middle range. 
A red dot is a spherical mirror that reflects light emitted from the LED at its axis center. That spherical reflector contains a special coating that only reflects red light.
This prevents other light from disturbing your reticle. An LED shines the light of the beam on a specially coated, slightly angled glass to break it simply. That glass reflects light from an LED, which creates your reticles. 
This reflective lens has a special coating that only reflects red light so that you can see a red dot from one side of the light. 
By reflecting red light only partially, the glass allows it to pass through all colors in the light spectrum; that's why you can see it even in the mirror. 
The result is a clear vision indicating the goal for a clear vision. The red dot size is measured in MOA, and the size is controlled by a hole drilled in front of the head. 
Generally, large dots are best to see quickly and reach the target, while small dots are the best for shooting and hunting at moderate distances. Over long ranges, the point covers less than the target and makes it significantly easier to see and attack your target.
Holographic Sight
Unlike red dot sights, the holographic sights enable you to view unreal pictures when compared to other regular sights. 
The holographic sights come with laser-based technology, and it creates 2/3 dimensional reticle images. The laser is used to illuminate the hologram images, and you can see a reticle image located in the long distances.
Accordingly, the holographic sight reflects these wave patterns from the point of view of the target or destination point and then plans these waves further into a window within view. 
The user in the sight window can only view the reticle's project. This hologram image can be any specific shape/form and any size.
Differences between Holographic and Red dot sights
Technology
The display of both red dot and holographic sights use different technology to show their reticles. The red dot shots release an LED beam towards the coated windshield. The slightly silvered finish shows the red spectrum, displaying the red LED towards your eyes while allowing other light. 
Most people used laser technology compared to LED technology. The holographic sights utilize laser technology. A laser spreads from one diode and then reflects from various mirrors to give you a holographic image. 
Reticle Color
The reticles come in two different colors, like green and red. Nowadays, the green color reticle is very famous among hunters and shooters. The color is easily seen on the eyes compared to the red color: it is best if used in constant lighting. 
The red reticle is very common because it's quickly taken by the eyes, even in lighting situations like moving through a building.
Reticle Pattern
Your reticle may be crosshairs, or it may have a small dot, ring, or a combination of three. It is very common to find red dots with only one dot, but some reflect the holographic shots' reticle by a ring throughout the dot. 
The Eotech plays a significant role in the holographic sights; The HWS is one of the most popular reticles in Eotech. 68 MOA rings surround a green and red 1 MOA dot, with tick starts at 3, 6, 9, and 12 o'clock levels.
Most of the red dot sight has 2 MOA dot reticle in either red or green; the HWS reticle enables faster target acquisition, and it also enables you to make fly range estimates. 
The closer you are to put your target in the ring, the faster you can reach the goal. About 15 yards, the ring includes 65% of the ordinary adult male's body. 
Instead of concentrating on the 1 MOA point, you may see that it serves the subconscious mind as a secondary purpose tool, even if you are not emotionally using the ring.
The Eotech provides holographic displays with a complicated reticle that enhances your ability to measure and estimate distance. 
1 MOA center point is found in most Eotech reticles; It is smaller than red dot shots and enabling improved accuracy. Further away, the point will be less than more significant than your goal.
Acquisition Speed
Both the holographic and red dot sights have a higher Acquisition Speed compared to traditional iron sights. 
The red dots focus the point on your eyes, so the focal length is the vision, but the Holographic sight expresses the hologram in front of the view.
Because your eyes can only focus on one target at a time, and if you wish to concentrate on the red closest point or another target that is far away, your sight will lose time to taking the picture.
Holographic targets will recover your target so that you can focus only on a distance. Using the 1 MOA center point, it is simple for quick close-up shots or even more precise distance shots.
Magnification
You can use magnification in both holographic and red dot sight, but the holographic sight is perfectly suited for magnification.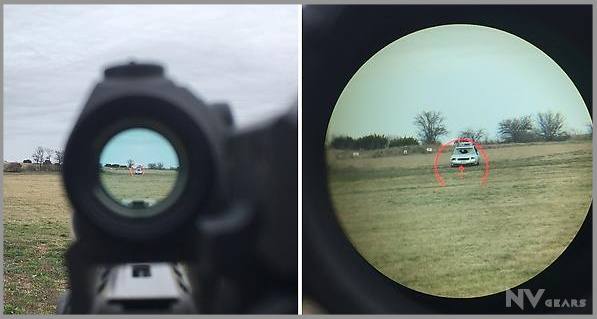 When you are using the magnification in the red dot sight, the dot size will appear larger but will be proportionally identical compared to the target.
However, the holographic view remains intact without magnification. How much you magnify the target, the smaller the reticle will appear in relation to the target.
Night Vision
Both the red dot and holographic sights have compatible night vision models. These models come with dimmer setting features that help to avoid the damages of the night vision device. 
Some of the holographic sights don't have NV brightness setting and dimmer setting features. For example, the EXPS2 does not have NV settings, but EXPS3 is night vision compatible.
Battery Life
The holographic sights produce excellent reticles without using more power compared to red dot sights. The laser technology used in holographic sights controls up to 600-1500 hours of battery life before replacing new batteries. 
The very low power consumption of the LED technology of red dot sights enables budget-friendly choices to have a battery life of 50,000+ hours.
Durability
The durability is more critical for all sights. While you are waiting for the woods' targets or goals, you never understand what kind of climate or ambient situations you will face. 
So you can choose bombproof optics; these optics withstand all weather conditions like water depths, the huge range of temperatures, and g-forces. The holographic sights have more durability when compared to red dot sights.
Weight and Size
The red dot sight comes with a compact size and lightweight, so it can easily fit in both handguns and rifles.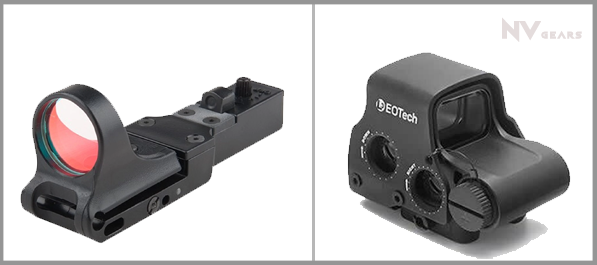 The red dot sight uses simple technology, which allows producing smaller optics. The holographic sights come with more weight compared to red dot sights.
Holographic Sight vs Red Dot Sight
| Features | Holographic Sight | Red Dot Sight |
| --- | --- | --- |
| Product | | |
| Eye Relief | 2.2 inches | Unlimited |
| Reticle | 68 MOA Ring & (2) 1 MOA Dot | 2 MOA dot & 65 MOA circlewith dot |
| Power | 1 x CR123 battery | CR2032 battery |
| Water-Resistant | Submersible to 33 ft | Submersion up to 30 meters |
| Brightness | 20 brightness settings | 10 daylight and 2 night vision brightness |
| Mount | MIL-STD-1913 rail 1" Weaver Mount | 1/3 co-witness QR Mount |
| Dimension | 7.7 x 2.3 x 3.3 inches | 8.2 x 9.8 x 12.8 inches |
| Weight | 22.4 oz | 0.34 Kgs |
Conclusion
From both the red dot and holographic sights offers many benefits, as you can see. Each model has numerous advantages and differences. The red dot sight and holographic are the affordable price sights on the market. When comparing red dot sight and holographic sight, holographic sight offers a high Acquisition Speed, field of view, and durability. In this review, we've differentiated these two sights according to the performance and characteristics. We have given a clear summary of the above sight to choose the best one that satisfies your requirements. These sights will enhance your target shooting and hunting experiences.