Hunting at night might be a lot tougher while compared to the day hours. Also, it would be challenging and exciting, especially when you are hunting a predator such as coyotes. 
Naturally, Coyote hunting is a pretty fun activity and can be a very exciting and extremely effective way to keep their population at bay.
Coyotes are nocturnal predators, so as a hunter, you may need to hunt at nighttime. 
Because the predators are active at nighttime, and do most of their activities during the night time and rest during the day hours. Especially the coyotes are most active at night time; also, they are most vocal in the darkness. 
As the darker has fewer advantages, and by using the right equipment, you can have a definite edge over the coyotes. 
This article will help you know the most important things to consider before getting out for hunting coyotes in the night.
Coyote Hunting Tips and Techniques
The following tips will help you to increase the chances of hunting your first coyote during the night. Very first, we will discuss some of the techniques used by the hunters.
Figure out the Location
For hunting coyotes, you must know where coyotes are frequently or commonly found. 
As stated by many professional hunters from their personal experience, coyotes are likely to be found in brushy creeks, river bottoms, swampy areas, and other places ravaged by small rodents and varmints.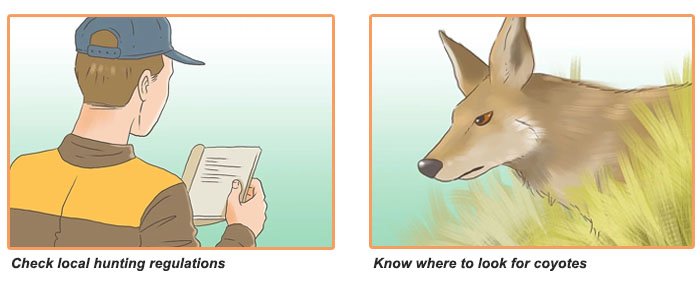 Aside from these areas, the coyotes can also be found near sheep or lambs' ranches. The U.S Fish and wildlife service has reported that the loss of sheep and lambs is up to 20%. 
This shows that coyotes may rove near the sheep ranches. So, most of the ranch owners will allow you to hunt coyotes around their property. 
Hunting Conditions
Hunting coyotes will depend on the day and night of the hunt. Naturally, coyotes are very cunning and have a sharp sense of smell, and they can sniff you even before you spot it.

The best time to hunt Coyotes is on calm, cold days. It's advisable not to hunt on windy days. 
For hunting coyotes, you need to be stealthy. So that you can use rubber hunting boots and avoid making noises if you are hunting with your partner. Moreover, park your vehicles as far as possible without banging the door of your car.
Calling Coyotes at Night
When hunting coyotes, you can use coyote intimation calls, electronic calls, prey distress reed calls, and diaphragm calls. 
The electronic predator calls are extremely clear, loud and are similar to the original animal's voice. It makes them very believable to coyotes.
Many hunters use multiple types of calls, but coyotes are very smart, and they don't fall for the same techniques used by other hunters. 
Hunting coyotes would be a challenging task for a new hunter, so they require more patience while hunting the coyotes.
Use Dogs 
This is one of the controversial techniques which you can use for hunting coyotes, including the use of dogs. Coyotes are predator animals; they may kill dogs. 
You can possess a loyal animal to your hunt, only if you have a well-trained hunting dog.

Be sure your dog does not wander off too far away from your spot. Also, ensure that your dog can follow your commands and can outpace coyotes.
Best Weapons For Hunting Coyotes At Night
The right coyote hunting gear can make all the differences, and it helps to make your next hunting trip to be successful. The following things may help you to kill the coyotes successfully.
The best weapon for hunting coyotes is to carry both a shotgun and a rifle. Remember that not all rifles are best for hunting coyotes, so that you can include small guns in your hunting. 
The ideal gun used for coyote hunting is Glock 43. You can use this shotgun to get the best sight and perfect shot.

The weapon that you choose for hunting coyotes will give you better chances of precise shooting and killing coyotes. 
Moreover, the best scope for coyote hunting comes with a higher magnification range and a larger objective lens.
One of the most important things you need for hunting coyotes is camouflage. It helps you to blend well with an environment.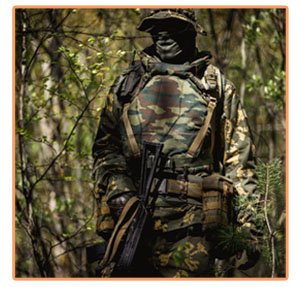 Usually, coyotes have excellent vision both during day and night. When you are hunting them, you have to protect and prevent yourself from spotting, so you need camouflage for that. A ghillie suit is the best camouflage.
Electronic predator call allows you to trick a coyote and attract coyotes towards you. These electronic predator calls are excellent as they come with different varieties of sounds.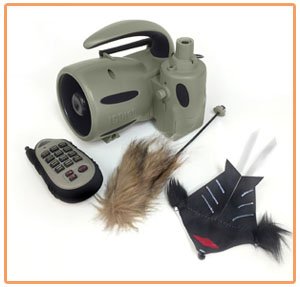 Hand calls are also great for hunting coyotes. It's up to you to choose which callers are great for coyote hunting.
As mentioned above, the best time to hunt coyotes is on a cold and calm day.
So, you require a pair of thick gloves for this purpose. It may keep you warm and keeps your hands from being spotted in the moonlight.
One of the most obvious things you need for coyote hunting is Scouting ahead. For this, you may require a trail camera. 
This camera provides you with an accurate picture of the location where you are planning to hunt.
Also, you can use a pair of best night vision binoculars for hunting coyotes and get a larger picture of the area you are planning to hunt.
Additional Gear
Here are some of the additional types of equipment that you must have for coyote hunting, and the list includes,
Decoys

Mask and Gloves

Chair/butt pad

Clothing 

Binoculars

Rangefinder

Headlamps

Hunting pack

Night hunting predator lights

Ammunition

Weapon Optics

Shooting tripod

Gps and scout cameras
Using a tripod is a good idea if you like shooting when standing up.
Coyote Hunting Mistakes
Some of the most common things not to do while hunting coyotes, and they are,
Do not hunt in coyote populated areas

Giving up too soon, or leaving too soon

Using the wrong call

You don't have enough places to hunt

Calling too much or too little
Conclusion
Coyote hunting is very popular, night thrilling, and mastering coyote night hunting will significantly improve your hunting experience. Also, it's one of the most entertaining hunting options around the world. One of the important tips to note is that not all coyotes respond quickly to distress calls. So, patience is very much important for hunting coyotes. 
A Good hunter may wear the virtue of tolerance like a medal. It helps them to become a successful hunter. However, safety must be a priority for every hunter, and avoid getting yourself into dangerous situations. Coyote hunting may not be easy only by reading articles, books, and by watching videos, you can learn to hunt coyotes by going out and hunting them. Keep on learning and training by yourself to hunt the coyotes, and you can learn more from your mistakes. 
Good luck!