The brand new crossbow for the hunting season is in your hands. You are ready to go out there and catch the game. Well, you need to sight your scope before you go there. Look, if your scope is not accurate, you will get a chances of missing game. No one has time for this. Before starting your crossbow hunting, you have to sight your scope with the crossbow to ensure precision when you are at the hunting field.
Sighting a crossbow is one of the crucial things when you are planning for crossbow hunting. Whether you are renting or borrowing a crossbow, you have to do this, because your hunting requirement needs some specific modifications.
But you have never sighted the scope in a crossbow before, or you may need an update on how to do it. This is a guide to how to sight in a crossbow scope.
Here are some tips provided by the hunting experts. This will make the sighting task easier for you.
The most common types of scopes used for crossbow hunting are red dot, multi point reticle, and variable power scopes. Each type of sighting process is similar but has some variances which happen in the process.
Let us talk about the three types of crossbow scopes and see how to sight them on the crossbow.
What Type of Scope do You Have?
Before you are going to sighting your scope, you have to decide which type of scope you used. It may variable power scope or not. Before we see the step for sight-in crossbow scope, we have to discuss three various types of crossbow scopes.
Multi-Point Reticle Scope
It is also called a drop compensating reticle scope, which includes marks, dots, or lines that help you to shoot in various ranges precisely. With the drop compensating markings on multi point reticle scope, you can hit your target. Align your target with the perfect mark for the distance you want. Well, that's not all. Symbols in multi-point reticle scopes are specially designed to shoot at particular distances.
Red Dot Scope
These scopes are not magnified, instead, they give you a broad perspective. Magnification can control your external vision. With these scopes, you can open both eyes and view your target and all around your target. This is ideal if your goal is running.
For instance, you may be aiming a white-tailed deer running towards a large tree. With the red dot scope, it will be easier to see, and it will let you stop your shot until the deer pass through the link.
With a magnified scope, your view may be limited and you can view the trees patch which deer is run through. Red dot scopes are best for dawn and dusk situations as well as snowy or rainy weather. Generally, red dot scopes are illuminated letting you to view them in low light conditions.
Speed Dial Scope
This is also known as variable power scope. If you have the variable power scopes that are also multi point reticle scopes. Variable power scopes allows you to adjust the scope based on your crossbows and various shooting needs by dialing in the scope.
Collect Accessories
Before you are going to start something, you have to need some supplies. We have listed them below.
Once you gather the above list, you can move on to an open area where you can start processing on your crossbow scope sight. Keep in mind the open area where there are no people, homes, or animals that could be injured while you are in the process.
How to Sight in a Crossbow Scope – Step by Step Procedure
1. Set the Target
Before you start, you have to set the target. This can be a haybale, tree, or targeting block. Do what is most appropriate for you and do what you already have. The only way you can do this is to have a target to shoot.
Keep your target at a distance of 20 yards from where you are going to shoot. This is the range that takes to begin the calibration process for your purpose.
2. Fix the Crossbow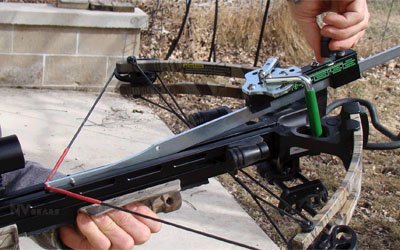 Before you start using your scope, you need to fix your crossbow. This will ensure that everything is set up and prepared to execute. Use your custom method to cock your crossbow.
Once you get that set, you need to set your first arrow on the flight rail. Prepare your crossbow on the tripod and ready for the first test shot.
3. Crossbow Shooting
In most scope settings, you will get 3 various lines with the crosshair. Every line represents something different. Being a 20-yard line will be the highest line you are going to use. That's where you put your goal.
Other lines below the 20 yard line are the 30 yard line, the 40 yard line, and then the 50 yard line. After measuring what you need in your crossbow now you are going to use them. Do not worry about other lines until you have done the view at 20 yards.
Using the line or dot you have, you are going to align it with the your target's bullseye. When you drag the trigger, remember to use only your fingertips. Do not use your entire arm or hand, it is going to modify the shot accuracy.
4. Adjusting the Scope
Once you finish your target, you have to view how long you are from the target. You have to estimate the arrow yourself to guess how long it is. You can find the screws or knobs to modify the scope. These are commonly called elevation and windage knobs, but you may have a hex adjustment screw. These knobs use a "click" sound to see if an adjustment is taking place.
For instance, if you are 1 inch and 2 inches shorter on the left, you have to modify your scope to 2 inches and 1 inch to the right.
Once you finish, recover your arrows.
5. Shooting
After making the starting adjustments, shoot 3 arrows. After that repeat the fourth step until hit the bullseye and have a grouping. All your arrows are grouped when they are in a average cluster. You will want a stiff grouping. When you are all done, you are ready to move on to the last stage.
6. Scope Maintenance
Once you have done all the aligning work to your scope, then keep it that way. Generally, your scope should be adjusted for the entire season, even if it is not for several seasons. However, before every season, you should check your scope that it is still aligned. To do this, follow the previous steps.
Final Words
So here are the steps which hunting experts have provided to hunters who need to sight in a crossbow scope. It will be very helpful for everyone, especially for beginners. If you are able to understand these steps, you will be able to keep the crossbow and scope for over years.
Happy and safe hunting!